Come to discover the incredible bays of the coast of Baunei by boat, leaving from Arbatax or Santa Maria Navarrese.
Home
> Beaches of Sardinia – The coast of Baunei and the Gulf of Orosei
Jewels of Sardinia: the coast of Baunei and its dreamy beaches
In Sardinia, Ogliastra, Baunei, there is a slice of heaven: twenty miles of wild and unspoiled coast!
Imagine a place where the beauty of the sea, the beaches and the mountains are not mutually exclusive. Where the sea water is turquoise or emerald green. Imagine the mountains ending up overlooking the sea, leaving you the permission to penetrate them only occasionally.
Imagine a place where the melody of the waves breaking on the shore is the only one alive, where fishes swim until the shore and the starfishes live among the rocks a little further on. Imagine that, while swimming in a crystal clear sea, the golden eagle or peregrine falcon twirls in the sky. Imagine a place where the man is not the supreme ruler: where there are no houses or streets and not a single drop of cement.
All this really exists, along the coast of Baunei. Here the cliffs, gently receding towards the rough Supramonte, leave room for breathtaking inlets of white pebbles set between the sea and the rocks: the coves. We are in Ogliastra, in the coastal strip of the Gennargentu park, the Gulf of Orosei, in geographical terms.
"By definition, it is one of the last paradise of nature, where faunal species such as the gull Corso, the falcon of the Queen and the Marangone dal Ciuffo, nest and live in symbiosis with a natural environment, rich of endemism. Jealously guarded by the guardians of the territory: the shepherds who even today grazes herds of goats."
The Caves of the coast of Baunei and the Gulf of Orosei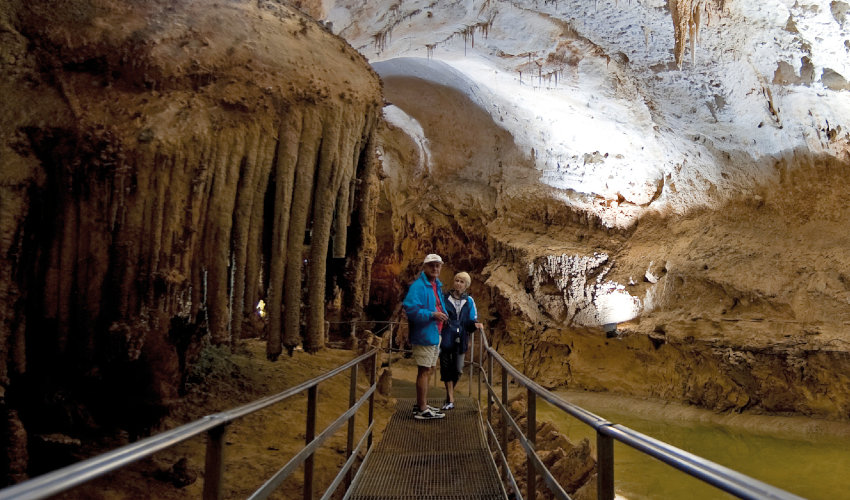 Coast of Baunei
Rising between Cala Mariolu and Cala Biriola, it is one of the last shelters of the monk seal. It is connected to the sea by siphons, access roads and shelter.

Gulf of Orosei
Refuge of the monk seal, the cave is named after the Sardinian name of the animal, which is called Bue Marino.
Here nature is still untouched and flora and fauna are the master. Here around, it is not unusual nor rare to sight a goat on the cliff a few meters above the sea. There are no roads to get here and there are not even the typical sighting towers of which the island has been equipped to prevent Saracen raids. Nature grew in a way useful to protect this territory, the cliffs rise up to 500 meters above sea level and making this part of the coast one of the most inaccessible and wild in the Mediterranean. The territory of Baunei is enclosed between the sea and the mountain, offering endless unique scenarios where nature offers the best of itself. The oases set between the sea and the rocks are difficult to describe in words.
"The wildest and most beautiful part of the Sardinian coast is located in the Municipality of Baunei: Pedra Longa, the Colombi cave, Capo Montesanto and the creeks of Portu Pedrosu; Portu Quau, the beaches of Cala Goloritzé, Cala Mariolu and the beach of Gabbiani, will be part of your unforgettable journey. Discovering of underwater siphons inside the Fico cave, the last kingdom of the Foca Monaca, will make you relive the times of an ancient world. Again, the beaches of Cala Sisine and Cala Luna until the Bue Marino cave."