Useful links
Supporters and partners of Nuovo Consorzio Marittimo Ogliastra
Some of those links can be useful before and during your vacation in Ogliastra, located in the central-eastern coast of Sardinia. Sardinia, located at the center of western Mediterranean area, now represents an aspired destination for and increasingly numerous tourist type, the smart one!
Ospitality
– where to sleep in Baunei and Santa Maria Navarrese
– where to sleep in Tortolì and Arbatax
– where to sleep in Arzana
– where to sleep in Bari Sardo
– where to sleep in Cardedu
– where to sleep in Girasole
– where to sleep in Lanusei
– where to sleep in Lotzorai and Tancau
– where to sleep in Ulassai
Book online
With the fleet of Nuovo Consorzio Marittimo Ogliastra we will take you with our motor ships to explore 40 km of the wild coast of Baunei, leaving from the port of Arbatax or from the touristic port of Santa Maria Navarrese.

Get your ticket online and save 5% off!


You don't need to print it and you can skip the line!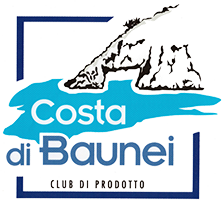 The environmental contribution
An environmental contribution of € 1.00 is asked by the Association "Costa di Baunei"; its destination is to improve quality of services the association intend to offer, such as assistance on the beaches, more and more safe moorings for tourists, the cleaning of sandy shores and their protection and conservation over time.
Our Fleet
Our confortable and safe motor ships will carry you through the discovery of one of the most suggestive slice of heaven in the whole Mediterranean. Boats capacity from 120 to 300 seats.
Read all
How to buy on-line
It is possible to buy tickets from this site, either via computer or smartphone. Our system is a simple and safe way for you to purchase your ticket.
Book now
How does the trip work?
Leaving in the morning, return in the evening. During the day an alternation of visit at the beach and boating until the next one, as planned by the line you choose. You should get your ticket at least the day before!
Read all